From the makers of 'Scintilla d'Amore',
favourite wine of Luciano Pavarotti
Now Available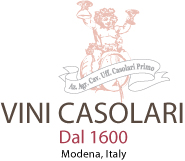 1st time in BC
Vino Frizzante Secco

BC Retail $14.99 + 276105 (GL)

"Raspberry colour with lots of mousse. Very fruity cherry, raspberry jam, spicy, floral aromas. Very fresh, dry, slightly tart palatewith foamy mousse. Earthy, tobacco, sour cherry, smoky, rhubarb flavours with a gamey note ... try with turkey or a duck canapé."
— Anthony Gismondi, 2011-11-20
This secco (dry) style Lambrusco is a fine and elegant young frizzante red wine made with Sorbara and Salamino grapes from it's own DOC in Emilia-Romagna, central Italy. These indigenous varietals produce a delicious, refreshing wine to match the cuisine of the region, famous for Parmigiano, Prosciutto and balsamic vinegar of Modena.
Ruby red with rose reflections, aromas of fruit and violets combine elegantly. Distinctly dry, it exhibits unique and extraordinarily satisfying savouriness on the palate with a fresh, lively finish and superb balance.

It's elegance and simplicity makes for extremely versatile pairing with many dishes, especially roasted meats, cheeses, any Italian cuisine, tapas and seafoods, and light salads.

Perfect with poultry and seasonal cuisine
Technical Data

Sorbara DOC 80%, Salamino DOC 20%
Soil Type: Sandy, soft alluvional soil
Fermentation: Charmat method - 2 weeks wine vats at 15°C, then stainless steel at 18°C for 34-40 days.
Residual Sugar: <15 g/l
Acidity: 7.5 g/l
11% alc./vol.
Case 12 x 750 ml
Serve at 10° C